Top Restaurant Construction Company in Los Angeles
econstruct Inc.
For over a decade, econstruct Inc. has been transforming empty spaces into thriving dining destinations across Los Angeles. Led by veteran contractor Frank Neimroozi, our award-winning team specializes in providing top-notch full-service restaurant construction using cutting-edge techniques tailored to each project.
Whether you're looking to open a trendy Hollywood café, upscale Santa Monica bistro, or a bustling boutique restaurant in Woodland Hills, we have the technical expertise to build it. Our end-to-end services include concept development, design, permitting, construction, custom millwork, and equipment procurement. We flawlessly execute restaurant projects of all sizes and scopes.
econstruct Inc. has meticulously built stunning eateries throughout neighborhoods like Westwood, Sherman Oaks, Beverly Hills, and Tarzana. Our construction talent combines creative vision with deep industry experience and precision planning. Diligent project management ensures your restaurant build stays on time and on budget.
With a commitment to integrity, open and seamless communication, we build for the long-term. Many discerning LA restaurateurs have trusted us to turn their dreams into thriving destinations. When only the best restaurant contractors will do, choose the econstruct Inc. team.
Let us review your plans and start creating your perfect dining space today!
Our Restaurant Construction Services
Led by founder Frank Neimroozi, an experienced restaurateur and contractor, econstruct Inc. offers full-scope construction services to bring your vision to life. We are involved from initial concepts to final touches, handling every detail along the way to create your ideal dining experience.
Our all-inclusive expertise spans:
Concept Development
We refine your vision into buildable designs optimized for aesthetics and function.
Design and Drafting
Our architect partners craft accurate & stunning plans tailored to your restaurant.
Project Management
Diligent oversight keeps your project on time and budget every step.
Permitting
With over 35 years of experience with plan-check procedures, we navigate regulations and secure approvals to prevent delays.
General Contracting
As GC, we draft a detailed and insightful project schedule at the front-end of the project, and manage the build aggressively with our partner subcontractors and vendors, seamlessly from start to finish.
Construction
Our in-house crews handle demolitions, framing, drywall, finishes, and our subcontractors handle everything else.
Custom Millwork
Our millwork vendors bring a multi-generational experience to fabricate stunning bars, counters, and displays that truly make a statement.
Equipment Supply
We have long-standing relationships with some of the major restaurant equipment vendors in the industry, thus the ability and resources to procure and install high-end commercial kitchen equipment, as well as stainless steel fabrication with impeccable quality.
Compliance
All work meets permitting, codes, ADA requirements UL, NSF certification for new builds and renovations.
econstruct Inc. offers unrivaled expertise and attention to detail. Let us handle the entire process so you can focus on your restaurant's success!
"econstruct did an outstanding job in all areas!!! They did super high quality work, they went above and above and above and beyond what was expected." From Yelp.com
See our Restaurant Building experience
Why Choose Us as Your Restaurant Contractor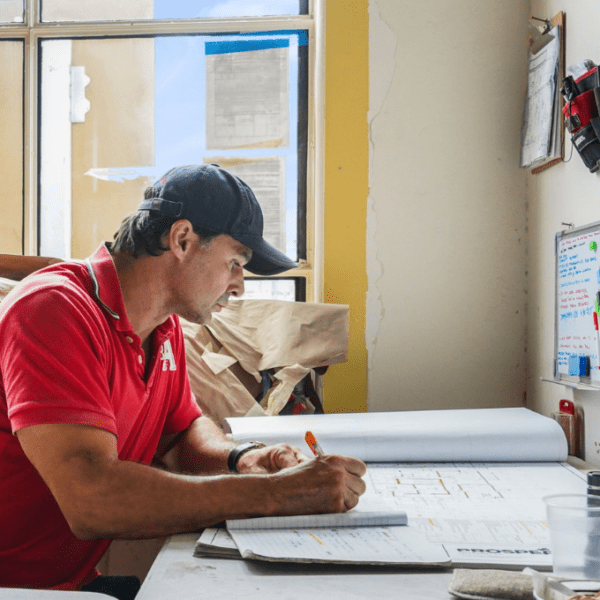 With over 50 years of collective experience between partners building acclaimed eateries across LA, econstruct brings unparalleled expertise to every restaurant project. Our founding partner Frank Neimroozi started the company to raise the bar for integrity, precision, and transparency in construction.
These core values permeate every aspect of our work, setting us apart from other contractors:
Precision – We pay meticulous attention to every detail, from your initial vision through to final completion. Our team utilizes cutting-edge techniques to build restaurants that exceed your imagination. If you can envision it, we can build it!
Transparency – Smooth and seamless communication every step provides total visibility into the process. We offer insights into realistic costs, timelines, and the efforts involved so you are fully informed from the start.
Integrity – We keep our word and we stand behind our work! You can trust that we won't overpromise. If we make a commitment to you, we will deliver no matter what.
Partnership – Getting fully invested in your vision. We build relationships that last far beyond the project timeline.
Timeline – With decades of experience bringing exceptional spaces to life, econstruct Inc. has honed a streamlined, yet meticulous process to deliver restaurants on time and on budget.
Flawless Execution – Applying seasoned technical skills to turn dreams into reality, exactly as envisioned. We won't cut corners or compromise quality.
Choose econstruct as your restaurant construction partner if you value open collaboration, fierce attention to detail, and a commitment to excellence. Discerning clients pick us for building the absolute best.
"Great company with the highest quality work as well as professional management. Frank and Robyn are top notch and a pleasure to work with."