Los Angeles Commercial Construction Company You Can Trust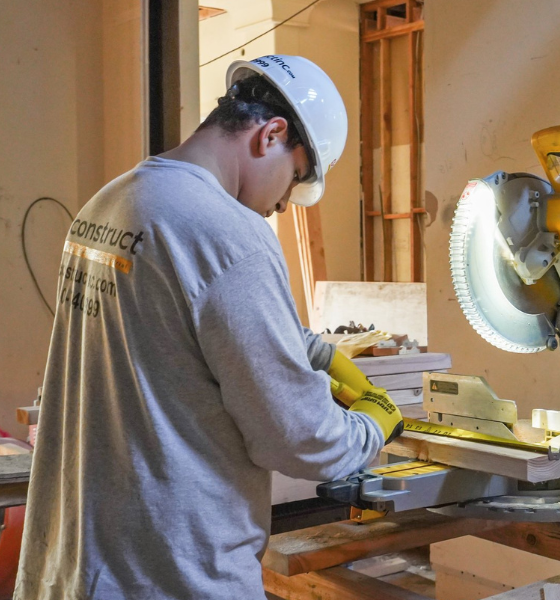 Trusted Excellence in Commercial Construction, Since 2011
For over a decade, econstruct Inc. has been the leading commercial contractor in Los Angeles, renowned for flawless execution on projects of all sizes and complexities.
Whether you need a custom office renovation in Beverly Hills, ground-up food plant in Downtown Los Angeles, retail store addition in Santa Monica, or commercial space in any LA neighborhood, we are the go-to construction company. Our full-service capabilities span from design and engineering to cost estimation/value engineering, project management, and executing construction with ease and skillset only available to top-tier companies.
econstruct stands by its work and we hold our team to the highest industry standards of professionalism. Precise planning, clear communication, and operating with integrity have made us one of the most trusted names in commercial contracting in our market.
Bring us your ambitious vision. Our well-trained team and subcontractor partners will apply decades of collective expertise to flawlessly bring it to reality just as imagined. Contact econstruct to get started on transforming your commercial property today!
Our Commercial Construction Services
Architectural Design and Drafting
Our partner Architects and Designers will craft detailed construction plans and drawings with our highly involved collaboration to bring concepts to reality.
Value Engineering
We analyze plans to optimize costs without compromising integrity or vision.
Project Management
Our experienced and highly trained Project Managers oversee each project milestone to ensure timely, on-budget delivery.
Pre-Construction Services
We provide ethical & accurate estimates, detailed schedules, and permitting assistance in project planning stages to ensure speedy process through city and county approvals.
Construction Services
Our crews carry out site-prep, demolition, concrete, framing, drywall, finishes and our partner subcontractors execute flawlessly all electrical, plumbing, HVAC, Low Voltage, roofing, tile work, millwork, and everything in between.
Compliance Consulting
We ensure plans meet all permitting codes and requirements for new builds and renovations.
econstruct offers start-to-finish construction services tailored to your commercial project needs. Contact us today to get started!
See our Commercial Building experience
econstruct provides an exceptional and sought-after experience on core values of transparency, attention to detail, deep experience, and customer service.
These principles set us apart:
Transparency
We understand the construction process involves complex challenges. That's why we maintain open dialogue, constant communication, and highly effective industry based back office cloud-based platforms that provide insights into realistic timelines, potential issues, and costs. No surprises or hidden fees.
Meticulous Standards
Every team member adheres to and is accountable to strict quality control at each phase. We double check details, use premium materials, and won't cut corners. Our work meets the highest standards.
Customer Service
We believe in our core each client is a true partner and customer service is not just a talking-point to us. We listen to and make a point to understand your vision and goals. Your satisfaction is our number 1 priority long after a project wraps up.
Technical Mastery
Our teams have mastered the most complex construction techniques to flawlessly execute even the most ambitious projects. We stay ahead of innovations.
Trust and Integrity
When you choose econstruct as your commercial contractor, you get people that are invested in your success through transparent collaboration, fierce attention to detail, and a relentless commitment to excellence. Contact us today to get started on your next project.
When you choose econstruct as your commercial contractor, you get a partner invested in your success through transparent collaboration, fierce attention to detail, and a relentless commitment to excellence. Contact us today to get started on your next project.
Expert Commercial Electrical Contracting
Whether your commercial project requires a full electrical overhaul or targeted upgrades, econstruct excels in electrical installations. Our licensed, bonded, and insured electricians handle everything from power distribution to interior and exterior lighting design and low voltage systems. We identify and procure the optimal electrical systems while ensuring full compliance with California building codes and safety standards. With experience across office buildings, retail stores, warehouses, and more, we handle commercial electrical systems tailored to your needs.
Premier Commercial Plumbing Services
econstruct offers specialized plumbing services for all commercial settings. Our professional licensed, bonded, insured plumbing partners address complex demands through solutions such as boiler systems, waste lines, multi-story piping, grease interceptor installations, and commercial kitchen plumbing. We have managed plumbing projects ranging from office retrofits to ground-up restaurant build-outs. With a diligent focus on precision techniques, quality fixtures, and code adherence, we build plumbing systems optimized for efficiency and longevity. Trust our experts for your commercial plumbing project.
"I had the privilege of collaborating with Frank & Robyn when I was at a different company. So, when the opportunity arose to build our stores in the Los Angeles market for my present company, it was a no-brainer to bring them onboard. The dedication and professionalism that econstruct demonstrates in each project are unparalleled. While I'd love to believe they reserve this exceptional service just for me, it's evident that their unwavering commitment is an inherent part of their ethos."